One of my blogolutions is to participate more and I nearly missed this opportunity because of pesky sleep. I am THRILLED to see that Fadra is doing writing prompts as well and it is a FANTASTIC one but today I just need a brain dump.
Big Yankee had to leave today. Peanut drove to the airport with us. It was heart-wrenching to see her cling to him screaming and crying "Don't leave Daddy! Don't leave!" It wasn't easy on any of us. I don't know how military families survive the constant separations while risking their lives for others. For now my coping mechanism is distraction. We drove back to my parents where the boys had stayed and played with cousins. They stayed a few more hours and then we had some much needed vegging out. We will go back home tomorrow and immerse ourselves in school, activities and daily life with the gaping hole of emptiness always there. I am hopeful I can
brainwash
coerce kidnap
offer someone a select opportunity to drive across country with us in March for Spring Break.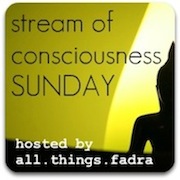 This was my 5 minute Stream of Consciousness Sunday post. It's five minutes of your time and a brain dump. Want to try it? Here are the rules…
Set a timer and write for 5 minutes.
Write an intro to the post if you want but don't edit the post. No proofreading or spellchecking. This is writing in the raw.
Publish it somewhere. Anywhere. The back door to your blog if you want. But make it accessible.
Add the Stream of Consciousness Sunday badge to your post.
Link up your post below.
Visit your fellow bloggers and show some love.