As time goes by, the images lose their sharpness, the details become less exact.
But I don't forget how I felt.
I was nearing the end of 6th grade when my parents called a meeting to ask what we would think of moving to half way across the United States. My dad, a university professor, was growing weary of the politics of his department. There was uncertainty with funding, dwindling opportunities.
I was going to be moving to a new school anyway-- on to junior high. My bff had moved the year before. It sounded like an exciting adventure. I didn't tell anyone I was moving until the last day of school...the day of our 6th grade graduation.
We found a rental house not far from campus. My dad would be able to walk to his office. We only had one car now. We'd sold our prehistoric white station wagon (sans air conditioning or radio) at our garage sale..which I found hysterical.
It was in the preferred elementary school district. I was thrilled to have a corner room..with many windows, light blue walls and blue wall to wall carpet. I seperated the bunk beds and it felt like a fancy hotel to me.
Laying in bed on the eve of the first day of school, it hit me like a ton of bricks. I sobbed into my pillow.... quietly I hoped.. so my family wouldn't hear. What had I gotten myself into? Why had I thought this was a good idea?
I was scared out of my mind.
I sported my red striped prarie shirt, navy blue knickers, red knee socks and brown leather docksiders. I can see us posed in front of our red brick rental house.
Middle school was bizarro world to me. Changing classes, lockers, 3 different lunch periods, riding a bus. It was all new.
We went to 4th hour, the teacher called roll and then everyone raced to the cafeteria which was in a separate building. I had no idea what to do. I didn't know a soul. I got in the hot lunch line, secretly hiding my brown lunch sack which I held in a death grip. I wanted to disappear.
As I moved thru the line and cafeteria workers offered me different choices. I shook my head, trying to swallow the gigantic lump in my throat and pretended the tears rolling down my cheeks were due to allergies.
I followed the people in front of me like a lost dog. I'm pretty sure they didn't speak a word to me. I was too shy and intimidated to open my mouth.
The rest of that day is a blur. At home, I raced down the hallway and around the corner to the bathroom.
I puked my guts out. An appropriate ending to my first day at a new school.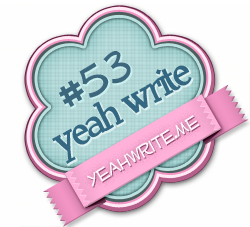 It's my favorite day of the week! Time to link up with
yeah write #53
! Read the fabulousness and go back to vote on your favorites!
Did you ever move as a child? What are your memories of your first days?