"Momma, will you take us to the park so we can ride bikes?"
"Sure, buddy. Let's pick up the trains first."
StinkBug and SideKick clean up at warp speed while making detailed plans for their bike riding adventure.
We pile into the mini-van and I secure them in their matching car seats.
The very same car seats that have transported them to countless art classes at the rec center, Target, and the grocery store.
The same seats where they sat and giggled endlessly about poop.
The seats where they screamed along to Pour Some Sugar On Me in the school parking lot while waiting on the big kids.
A lump grows in my throat as I back out of the driveway. The driveway that will no longer be ours in eight days.
"Momma. Momma, are you crying?"
"Yes. Just a little."
While I sit at the stop sign licking the salty tears as they land on my lips.
"Why are you crying? Did somebody die?"
I swallow hard. My voice is shaky.
"No, StinkBug. I'm just sad we're moving."
"You are" he questions as he looks at Sidekick.
"We're moving to Idaho ya know. I can't come to your house anymore."
Sidekick bites his lip and nods solemnly.
"Yep. But I'm a happy kind of sad because our family will be together again."
"Ok Momma. Just don't cry at the park. Remember there's no crying at the park!"
I'll try Stinkbug. I'll try.
**I wrote this in a notebook on what would have been one of our last trips to the park with Stinkbug's best friend. It was covered in tear stains. I tried.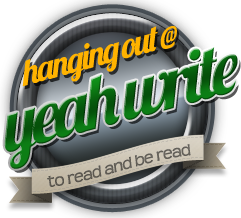 You can find me
hanging out
at the grid. Come on over and discover a fantastic, supportive community of writers and readers. You won't regret it.