In no particular order, because I LOVED them all-seven of my boyfriends.
Ricky Shroder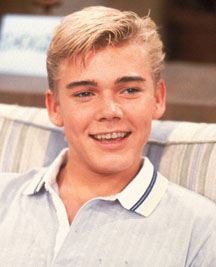 I typically don't go for blondes but I've always been a sucker for dimples. And that train in the living room-yeah I might have fantasized about riding it around all day. Totally rad!
Justin Bateman
So it might have been a bit of a love triangle with me, Ricky and his best friend Derek Taylor. He was dark haired and adorable! He totally rocked the preppy look.
And then he grew up...boy did he grow up! It's possible he's the only reason I watched The Hogan Family. White t-shirt +denim jacket= Tiger Beat Centerfold WOW!
Ralph Macchio
He first captured my heart in as Johnny Cade in The Outsiders. Who could resist his big dark eyes and shiny jet black hair? He was scared and broken and I just KNEW I could erase all that that hurt and pain.
When I thought he couldn't get any cuter he showed up with his feathered hair and kick ass karate moves.
Luke Duke
I spent many a weekend night in Hazzard County watching Luke slide all over the hood of the General Lee. Clearly he had the brains of the bunch and was my first cowboy hat wearing boyfriend.
Michael J. Fox
I loved me some Alex P. Keaton! Yes, he was a Republican nerd but he was witty and I was living out the older brother fantasy. Not so sure the cut off sweatshirt was a good idea but whatev.
Philip McKeon
Another blonde on my list. He was adorable as Tommy Hyatt on Alice. His smile, his dimples. He was full of witty comebacks, popular with the ladies and loved basketball. He was a man of many talents, what with playing the guitar and learning to be a fry cook.
Christopher Knight
He was HILARIOUS and a middle child just like me. I'm a sucker for brown eyes and he was the only one among the Brady Bunch. The curly brown hair, the fun loving goofiness made a complete package in my eyes.
Is it any wonder Big Yankee lured me in with his tall, dark and handsome looks?
Who did you crush on?