Since I
became a drain on society
was laid off I have altered my opinion on numerous things.
Late state Monday is among those things. As a WOH parent it was a huge pain to figure out what to do with children who started school an hour later every.single. Monday. This is especially true for those of us without child care. I had to leave for work by 7 am and going in late was NOT an option. I relied on the kindness of neighbor's to watch my kids for two hours and get them to school.
As a SAHM (or Stranded At Home Maniac as I am known to refer to myself) I FREAKING love late start Mondays! Sleep in after a crazy busy weekend when no one got enough sleep? Yes, please. Too tired to finish homework after being out of town all weekend? No worries, we'll finish it in the morning and have plenty of time.
Imagine my surprise when one of my favorite days kicked me in the ass!
It started innocently enough with the Brownie troop roster MIA. The very same roster I needed to make sure I bought the correct try its (I still call 'em badges damn it!) for the final Brownie Pizza Picnic scheduled for that evening. Don't you dare act surprised that I waited to the last minute. Of course I did!
Simple solution: Frantically text my co-leader and ask her to email me another copy. She is will versed in my ways and has already given me three lists. She texts me back to say she doesn't have access to list at work but will bring one to our event.
Plan B: Desperately pillage through half packed moving boxes and various activity bags in search of said list. Do a series of fist pumps and screams of joy when I discover the list in a bag of Girl Scout supplies still in the van from the meeting two weeks ago. Dust off whale cracker particles and attempt to dry juice box stain.
Quickly make list of what badges each girl earned. This is complicated by the fact that Council doubled our troop size in January so not everyone earned everything. Provide
age appropriate verbal encouragement
bribe Stinkbug to cooperate on a "few quick errands." Arrive at Scout shop which is already overflowing with a roving pack of demanding women in uniform.
Wait
patiently
impatiently for my turn only to be told that our try-its (they are badges dang it!) have been DISCONTINUED! They will "see what we can find in the back" which is retail talk for "crazy lady should've planned ahead."
They manage to unearth enough so each girl has a few and kindly suggest that I might find the other try its (why can't we just call them badges?) in Illinois or Oklahoma.
I do some quick calculations to confirm that I cannot road trip to our sister states to get try-its (they will always be badges to me!), finish getting party supplies and be back to pick up four kids at school at 3:20.
Head to local grocery store to pick up drinks and desserts. Debate over cupcakes or cake. Determine cake requires more effort and organization (additional plates, knife, forks).
Buy three dozen brightly colored cupcakes which are sure to stain faces, hands and clothing. This may or may not be payback for those parents who were always late and complaining. Hope that is enough since many people didn't RSVP despite the handmade invitations and numerous emails.
While checking out realize that I am using our last troop check. And I have 2 more stops to make. And I have extremely limited cash resources.
Frantically text co-leader who says we have more checks at her house but reminds me the pizza place won't accept checks. She offers to pick up pizzas and bring checkbook so we can write each other checks for reimbursement.
Pick up plates and napkins. Contemplate purchase of gift bags for try its (BADGES!) and other gifts and realize that I don't have enough money. Rush home with 45 minutes remaining until I have to pick up four kids.
Hurriedly organize items for the picnic while fielding requests for snacks and milk and race track assembly from StinkBug and his Sidekick. Pick up four kids and rush home to calculate how many pizzas to order for 40 people.
Phone rings and it's a much needed call from a friend in Sin City. Chat and laugh hysterically while loading car. Forget that I am on house phone and start to drive away in search of five kids who are roaming the neighborhood.
Lose call but find kids fishing and riding scooters at neighborhood pond. Scream "it's time to go" while tossing tackle boxes and Barbie scooters on top of children. Realize cupcakes are sitting on kitchen counter. Drive like
an uber organized pillar of the community
a bat outta hell to get cupcakes. Screech out of driveway barely missing neighbor's trash cans.
And that is the story of how Monday kicked me to the curb.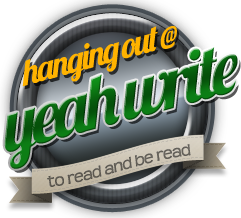 Check out
Yeah Write Hangout Grid
-where all the cool kids are!
If you love to read and be read you MUST check out this fantastic community!