I love a good party and a dinner party is even better. Of course, I'd have a staff to clean and serve for me. And Stacy and Clinton will take me shopping for the perfect outfit. It goes without saying that I'll have sassy hair and exsquisite make-up.There will be tons of great appetizers and the wine will flow freely.
Stasha
asked us to invite ten people dead or alive (Bon Jovi anyone) to dine with us. The following folks should be looking for their e-vite.
Amy Pohler and I are both Libras. In high school I worked at Parks and Recreation and she stars in the show Parks and Recreation. Exactly the same. Her parents are teachers as are mine. Ok, I'll 'fess up-we're really sisters and mom made me invite her.
Ellen invited me to a taping of her show back when I lived in California and she is constantly harassing me to invite her to one of my infamous dinner parties. I'm not letting her inside until she hands over my free t-shirt.
Will Ferrell because someone has to say grace a la Talladega Nights.
Steve Carrell will bring the funny and some copier paper because my copier paper supply is dangerously low.
Tanya Tucker will beg me to sing a duet of Delta Dawn with her. Guaranteed.
Tina Fey will cause me to spew out my wine...hopefully not in anyone's face!
Larry David because Seinfeld and Curb Your Enthusiasm.
I don't care how old he is-George Strait still gives me the screaming thigh sweats.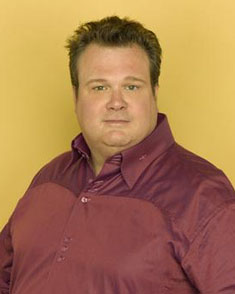 Eric Stonestreet AKA Cam from Modern Family will be the perfect guest.
Christina Applegate is a hoot and adorable too!
Who would belly up to the table at your ultimate dinner party?