My gal Stacie over at Snaps and Bits saw that I needed some sunshine this week and nominated me for a Sunshine Award.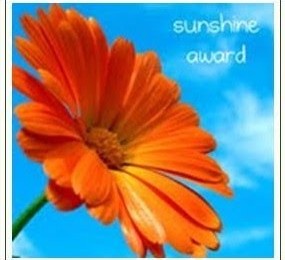 How can you say no to that? I love her selection criteria. It helps that she featured some of my favorite bloggers as well as a few new to me bloggers.
The conditions of this award are to answer the 8 questions below, then nominate 10 other awesome bloggers so they can repeat the process!
**I'm breaking the rules and nominating 5 bloggers because I'm a rebel!
1. What is your favorite Christmas/Holiday movie?
A Charlie Brown Christmas is one of my favorites...funny, sweet and just a touch of sappiness to make my holiday just right.
2. What is your favorite flower?
3. What is your favorite (non-alcoholic) beverage?
I quit the coke (coca cola) last week or that would have been my answer. I guess it would have to be water, Sonic cranberry limeade or raspberry lemonade.
4. What is your passion?
My family and friends. Reading. Writing. Working with at-risk little ones & their families.
5. What is your favorite time of year?
I love long sunny summer days outside. I love cool breezes of fall and it's my birthday season.
6. What is your favorite time of the day?
After the kids are asleep and I can relax & have computer and tv to myself.
7. What is your favorite physical activity?
Walking
8. What is your favorite vacation?
Exploring somewhere new whether it be beaches, mountains or the big city.
I'm passing the sunshine to these fabulous folks:
Pesky Pippi
isn't the least bit pesky. She writes about Pringles and makes giant birthday cookies.
Diane is always quick to offer encouragement and I'm sure if I lived closer we'd drink lots of wine together.
Jennifer is inspiring as she shares her roller coaster life. She's always working toward something.
Kristen is the first person who EVER commented on my blog. I feel lucky to have connected with her in this gianto blogosphere.
My other favorite Diane is a lover of wiener dogs and mom of two boys. She writes wonderful lists.