Kathleen's turning ONE today and she's giving things away! Run don't walk to Michigan Left and you will be awestruck by her words. We "met" through Yeah Write which is THE place for talented and supportive bloggers and writers and storytellers.
Not only was I selected to receive this sensational award but I also get to nominate five lovely bloggers.
And since I am indecisive and each of you are amazing and clever and supportive I'm nominating EVERYONE!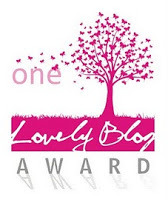 In addition to recognizing other bloggers, I am also supposed to list 15 random facts about myself as part of receiving the One Lovely Blog Award. Here goes:
1. I attended two different universities, three different times in two different states.
2. I've lived in seven different states.
3. I have 85 84 partially finished posts in my drafts folder.
4. I find it challenging to finish things sometimes.
5. My very first memory memory is of death-saying goodbye to my Papa. He died thirty days before my 2nd birthday.
6. I have twenty-two first cousins & several more if you count the ones by marriage-which I'm not sure if you do.
7. My siblings and I were the only ones who didn't grow up in New York.
8. My friends use to call me Tin Man because I NEVER, ever cried-not even when watching Terms of Endearment. Now it seems like I cry at the drop of a hat.
9. I often think I have undiagnosed ADHD/ADD.
10. When I was younger my dream was to adopt 81 children and live in The White House.
11. I LOVE college basketball but I don't watch it nearly enough.
12. I've never been to see a movie in the theater by myself and I have no desire to do so.
13. My mom and dad are my heroes.
15. One of my most interesting jobs was driving a shuttle van of international university students and their families to Walmart and the grocery store. I was paranoid that I would leave someone stranded at the store.