It was October 1979 and my Aunt Sharon had cancer. I didn't really know what cancer was but I knew it made her very, very sick. Aunt Sharon was married to my mom's oldest brother. She had a dining room with a tablecloth and a china cabinet where we ate sometimes. Freshly baked cakes always appeared when we visited. She wore skirts every day and her blonde hair was always just so. She never raised here voice even when there was a house full of loud cousins.
She was in and out of a hospital 769 miles away. She couldn't take care of her children. Mom said she was very tired. She couldn't cook dinner or fold laundry. She couldn't do the things moms do. Her boys were in high school. Her daughter was in third grade- a year younger than me.
Mom bought an airplane ticket to New York. In all of my nine years, I'd never known my mom to fly on an airplane. She took my little brother out of kindergarten and called in favors from friends and neighbors. We piled into our white station wagon and drove them to the Cincinnati airport. I don't remember how long she was gone or what we did while she was there.
It was still dark outside when the black wall phone started ringing and my bedroom wall vibrated. I heard Dad's hushed voice. My sister and I were already crying when he came in to tell us. Even now we recognize those heartbreaking bad news phone calls before we pick up the phone.
I packed the dark blue vinyl suitcase my Gran had gotten me for Christmas the year before. It was my favorite color. I wonder if she knew then I would need it to travel to her daughter in law's funeral?
It was dark and cloudy when Dad drove us to school. He walked with us through the empty halls. Mrs. Jeter handed gave me a folder full of work I'd be missing and gave me an extra long hug. We weren't sure yet when we'd be back.
I cried and cried and cried as Dad drove along I-75 North. It was dark and rainy. They sky was crying too.
I puked all over myself and the backseat somewhere in Ohio or maybe it was Pennsylvania. Dad pulled over to the side of the road and cleaned me up the best he could.
We rolled down the windows and I rode in the front seat the rest of the way. Squashed between my sister and my dad.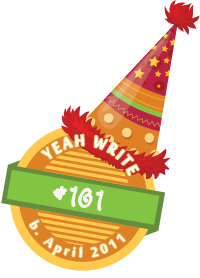 After an extremely long hiatus I am joining the talent at Yeah Write.
Write, read, vote.