I can see the pictures of the cousins posed in front of the swing set. Me in my purple Ocean Pacific skort, coordinating plaid purple and turquoise shirt, white leather Keds and purple socks. My would be hip jutted out to support his not yet toddler body.
He was at the Moose River-a place he had been thousands of times while growing up. He was with a group of friends. He was on the swim team.
The glider rocker Big Yankee had just assembled was the only piece of furniture in what was our dining room.
The current was just too strong. It kept pulling him under. One of his friends managed to grab a hold of him once--but then the rough waters ripped him away.
Out of reach.
Big Yankee called my work and explained what happened. That I wouldn't be coming back that day.
He stayed as long as could but eventually he left for work. We'd be having our baby soon and he needed to save up his vacation time.
I sat in the glider on the blue chambray cushions, clutching my pregnant belly as tears fell.
How was I suppose to welcome my baby into this world when my aunt and uncle were having to say goodbye to one of theirs?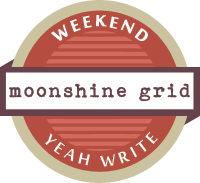 Passing the jug at Yeah Write 101