**This post was originally published in May 2012 but was the perfect fit for one of
Mama Kat's
writing prompts.
Third Grade- 1979
The red brick school sat like a crown on the top of a mammoth hill surrounded by bluegrass and 20 foot dogwood trees. The pink flowery blooms bursting with color.
There were only 3 of us left. Mrs. Marks, Abby and me.
It was eerie to be in the nearly vacant school...hearing the click-clack of high heeled shoes on the dark grey tiles as the teachers walked down the long, empty hallway.
The wheels of the mop bucket grinding to a halt and the water sloshing to the floor as Mr.Fletcher diligently washed away another day of dusty footprints, cracker crumbs, and kid grit.
Looking out the window- wishing, hoping, knowing the next car HAD to be my mom's enormous white station wagon.
We were going swimsuit shopping after school but my mom was late.
She was rarely late picking us up.
Abby was my best friend and her mom was late too.
Mrs. Marks sat at her brown metal desk grading papers and re-arranging piles. Our principal, Mr. Sword rushed in wearing his trademark gray 3 piece suit.
His footsteps slowed as he entered the room and glanced at the two 8 year olds looking out the window. Two little girls waiting on their moms.
There were hushed, frenzied whispers. Mrs. Marks took a few deep breaths before pushing herself away from the desk and walking quickly across the classroom. She asked for our help...plants needed watering, pencils sharpened, the chalkboard cleaned.
We were thrilled to be chosen...to be part of the secret society of after school.
When we finished our very important jobs Mrs. Marks invited us to go through a huge stack of extra worksheets. She knew how we loved to play school and told us to take whatever we wanted. We could have them all! We could even take the extra reading workbooks.
My mom came racing in, out of breath and flustered. Across the room, she and Mrs. Marks spoke quickly and quietly.
It was decided that Abby would go home with us. She was my best friend but I was crushed that I wouldn't get to buy a new swimsuit that day. I might have been a little mad at her too.
We played outside mostly..riding bikes and practicing the 3-legged race for field day. We had been partners since first grade. We hadn't won yet-or even placed- but we clung to the hope of a first place ribbon.
The shrill ring of the black rotary wall phone had mom racing across the yard, the metal door slamming in her wake. She balanced the phone on her shoulder, passing out popsicles and nodding, "uh uh, uh huh. ok."
A few hours later Abby's mom and college age sister (who I barely knew existed) pulled up in a light blue VW bug. The moms talked over our heads and then sped off down the street.
My mom called me inside to tell me that Randy died. He had been playing tennis and had a massive heart attack.
Her daddy was gone.
Forever.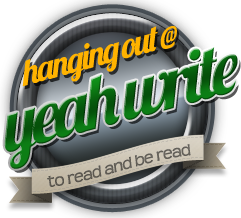 Linking up with
yeah write
for another amazing challenge.